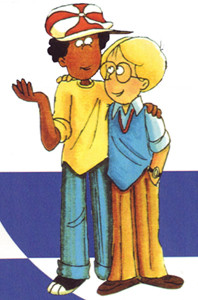 Pricing
View a 6 minute demo clip from The Human Race Club
The Human Race Club
From best-selling children's author Joy Berry comes The Human Race Club, an animated series of lessons that teach children how to intelligently navigate the difficult situations and emotional pitfalls they encounter every day. This six part series takes place in the group's clubhouse, where HRC members learn to work together to solve problems and better the world around them. Titles include Letter On Light Blue Stationery, Lean Mean Machine, Unforgettable Pen Pal, Casey's Revenge, Fair Weather Friend, A High Price to Pay, Feeling Sad, Moving, Being Away From Parents, and Being a Bad Sport among others.
Letter on Light Blue Stationery
After the death of Pamela's classmate, Pamela is asked to write a sympathy letter to her friend's family. In meeting this difficult challenge, Pamela makes an important discovery about herself and everyone else. This special video encourages kids to value themselves and others by learning to appreciate every human being.
Lean Mean Machine
Maggie mistakenly assumes that she will represent the Human Race Club by driving the Lean Mean Machine in the Hometown Go-Cart Derby. But then her runaway emotions steer her on a collision course into trouble! In this special video, kids will learn how to handle uncomfortable feelings like anger, frustration, and anxiety.
Unforgettable Pen Pal
When AJ and his pen pal, Joey, discover their mutual interest in basketball, they become best friends. The chance to meet at a professional basketball game leads them to find prejudice where they least expect it. This video will help kids learn about the negative effects of prejudice and discrimination, and will teach them the importance of forming their opinions about others intelligently.
Casey's Revenge
When Casey can't stop his older sister from embarrassing him, her decides to "pay her back" during a special slide presentation at her Sweet Sixteen Birthday Party. Theresa discovers Casey's plans and tries to stop him. This video shows kids why fighting and getting even doesn't work and how everyone wins when people respect and get along with one another.
Fair Weather Friend
AJ's boasting about flying to Disneyland with his "super-rich" friend doesn't impress the other Human Race Club members. In trying to win a new friend, AJ neglects his most valued relationships. This video will help kids understand that being a friend takes special effort and that friends should be chosen for who they are, not for what they have.
A High Price to Pay
When Teddy teases Jeff about being rich, Jeff invites Teddy to spend the weekend to see how the "Rich Cassidys" actually live. Teddy is surprised to learn that there is a price to be paid for everything. This video shows kids how they can find satisfaction in the choices they make about money.
To Order, Contact:
Video Resources Software
1-888-223-6284
11767 South Dixie Highway
Miami, FL 33156
mailroom@tutorace.com